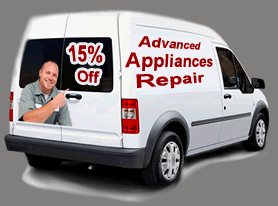 Advanced Appliances Repair is a growing residential appliance service and repair company based in Cumming, Ga. We are family owned and operated company with a great customer service orientation. Advanced Appliances Repair has been in business for over 15 years.
We have built solid relationships with our satisfied customers in Metro Atlanta Area. We specialize in most brands and models of house appliances such as Washers, Dryers, Ovens, Cook tops, Dishwashers, Microwaves, Refrigerators, Garbage disposals, Ice makers and Trash compactors. All of our technicians are very knowledgeable and experienced.
All have many years of field work and customer relations. Advanced Appliances Repair is a drug free environment; all of our technicians are thoroughly checked for a good driving record as well as drug use. Advanced Appliances Repair is licensed and insured company with many referrals. We are the company of your choice. For faster, reliable and affordable service contact us at any time via email appliances.repair@live.com or by phone at 404-433-0593 or contact us.
We understand the importance of uninterrupted services of your appliance units. At Advanced Appliances Repair we are committed to exceeding your expectations. To meet your needs we service most of the appliance brands at a convenient time for you.
REFRIGERATOR repair, installation, service
FREEZER repair, installation, service
WASHER, DRYER, DISHWASHER repair, installation , service
OVEN, STOVE, RANGE, MICROWAVE, COOKTOP repair, installation, service

We offer same day service on most orders placed before 12 Noon. There is no extra charge for Saturdays. We are always in your area, so there is no travel charge! We only install brand new, factory recommended parts.
Our service area: